G

od has showered the world with a special angels called children! That is the focus of Heavens Harmony Children's Music. My primary goal is reaching out to children and providing them with the inspiration and desire to:

CREATE
WRITE
LEARN ABOUT
NOTICE
COMPOSE
PERFORM
LISTEN TO
SING TO
RECORD
SHARE

and most of all to ENJOY one of the most beautiful gifts God has given to us....the gift of music.

H

eaven's Harmony was started in the mid 1990's in Florida and relocated to the beautiful mountain state of Western Montana in 1999. While in Florida, God introduced and brought friendship between Donna Cunningham, a creative and uniquely wonderful musician and me, Jeanne Saunders. I was in the process of organizing a childrenís Christmas concert and asked Donna to write a simple "kids song" and through Donna the most beautiful children's song entitled "We celebrate Jesus" was produced for a small group of children that I was teaching music to. Suddenly, the miracle of children and music came to light and Heavenís Harmony Children's Music slowly began to form and great was the desire to mold itself into the shape of God...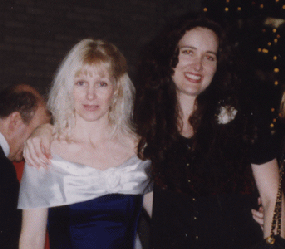 Jeanne and Donna

G

od said he would glorify any attempt to honor him, especially through and for the children. They are our legacy. They will be our next preachers, teachers, doctors and musicians. This next generation must not be left out of the eternal hope of Jesus Christ and what blessings he has in store for them. It is my prayer that you will find great joy in the musical education programs, the concerts, the writing and sharing of music that is inside of all children and I ask you all to pray for this ministry that God will continue to guide and direct as he knows best what steps to take and where to lead the children. The motto is not one of ego or self-glorification but each episode, each concert, every lesson learned, every song composed by a child or sung by children is to be a story of Jesus and how he has touched our lives here on earth...
Matthew 5:16. Let your light so shine before men that they may see your good works and glorify the Father in Heaven...

One child at a time.....one voice at a time....one heart at a time.....

Jeanne Saunders/Heaven's Harmony